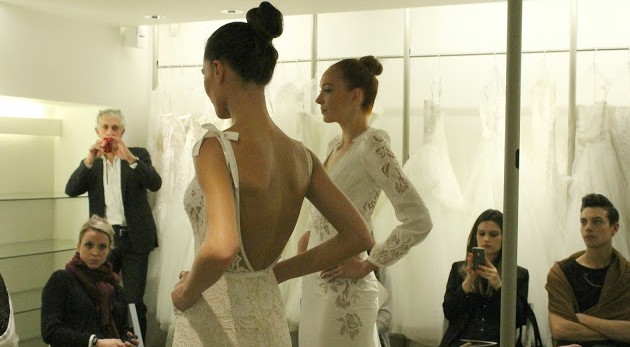 25 nov

Inbal Dror wedding dresses Fashion Show in Paris!

Jeudi soir avait lieu le défilé de la dernière collection d'Inbal Dror au sein de la prestigieuse boutique Métal Flaque à Paris. L'agence Wedding Privé était bien entendu présente lors de cet évènement et nous avons eu la chance de rencontrer la créatrice qui passe actuellement son temps dans l'avion entre les différentes capitales de la mode.

Inbal Dror, originaire de Tel Aviv, vient confirmer la renommée du talent des créateurs israéliens en matière de raffinement et  de savoir-faire.  Les robes étaient tout simplement sublimes et empruntes de féminité. Nous avons tout particulièrement apprécié le soin accordé aux détails, qui font de ces robes de véritables œuvres d'art.

 

The last Inbal Dror show took place on Thursday evening at the prestigious Métal Flaque boutique in Paris. Wedding Privé Paris agency was of course present for this event and we had the chance to meet the designer who spends her time in planes between the fashion capitals these days.

Inbal Dror, coming from Tel Aviv, confirms the israli designers' renown in refinement and know-how. The dresses were just amazing and full of femininity. We really loved sophisticated details which turn those dresses into real pieces of art. 
Agathe Benhamou et Inbal Dror
Agathe Benhamou and Inbal Dror