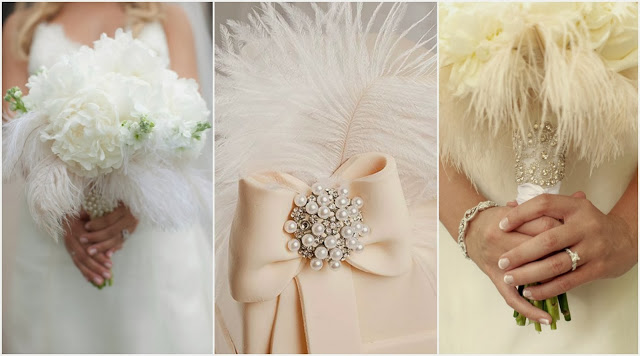 06 déc

Feathers, wedding theme idea!

Voici un thème qui colle parfaitement à la saison et qui ne manquera pas de douceur. Il en existe de toutes les couleurs et de toutes les formes, je veux bien entendu parler des plumes ! Sur votre robe ou vos tables, voici une tendance à adopter d'urgence !

Here is a theme which matches perfectly with the season and won't miss smoothness. They come in all shapes and sizes, I'm of course talking about feathers ! On your dress or your tables, get this trend immediately !
 Prenez votre plus belle plume pour inviter vos proches !
Take up your (

pen

) feather to write the invitations !
 Ce boléro en plumes est l'élément parfait pour un mariage l'hiver
This feather cardigan is the perfect piece for a winter wedding
Même ces messieurs n'échapent pas à la tendance plume !
Even the grooms can't prevent the feather trend !
On adore les plumes rosées sur ces chaussures et cette pochette pour un vrai look de princesse
et une allure de dame !
We adore the pink feathers on those shoes and this clutch for a real princess look 
and a lady-like attitude !